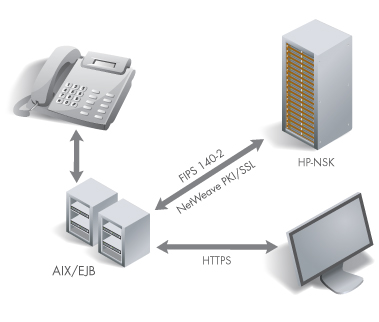 Other NetWeave Case Studies
Kaiser Permanente
Kaiser Permanente Counts on NetWeave Functionality for Application Evolution

For over a decade and for one project after another, NetWeave Integrated Solutions has been the middleware provider of choice for Kaiser Permanente, the largest managed care organization in the United States. NetWeave's first role with KP was to integrate a DEC (Now HP) OpenVMS-based interactive voice-response (IVR) system with KP's main patient-care database, hosted on Tandem (now HP) NonStop systems.  The IVR application enabled patients to reorder prescriptions via a combination of voice telephone input and touch-tone keypad selection.

Several years later, KP's original IVR system was reengineered and moved to an IBM RS6000 platform running the AIX operating system.  Use of NetWeave's Application Programming Interface (API) eased the migration effort.  Even given a change of platform (DEC OpenVMS to IBM RS6000/AIX) and a new IVR system, the interface to the NonStop system using NetWeave middleware remained the same. 
 
Kaiser Permanente again turned to NetWeave in order to expand the organization's prescription-ordering capabilities beyond the IVR-based system to an online service for web-based customers. The designers chose NetWeave's J2EE interface to link KP's highly dynamic web services on the RS6000 to the existing applications on the host HP NonStop systems. The J2EE interface, specifically the NetWeave EJBv2 component, includes features that dramatically increase Internet communication efficiency via persistent TCP/IP connections to the NonStop servers.
In the most recent chapter of its application evolution, Kaiser Permanente responded to new patient-confidentiality regulations by turning to NetWeave for secure transmission links for both its IVR and online applications. In partnership with XYPRO Technology Corporation, a security software provider, NIS used NetWeave's Secure Pipe technology to provide KP with data integrity and communications security with no need for any application changes.