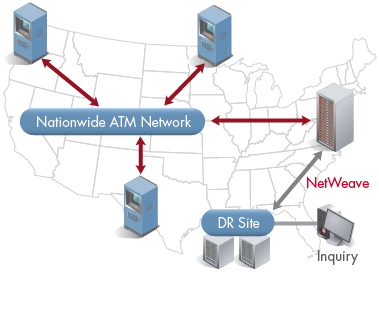 Other NetWeave Case Studies
First Data Corporation
NetWeave Supports Disaster Recovery at First Data Corp.
For nearly 15 years, NetWeave served as a key infrastructure component at Concord EFS, a major corporation specializing in electronic payment and deposit services via its STAR, MAC, and Cash Station ATM networks. Our middleware and professional services expertise migrated to First Data Corp. when it acquired Concord in 2004.

Today, First Data, the global technology leader in information commerce, counts on NetWeave Distributed Services middleware to maintain the STAR debit network's disaster-recovery application by linking the HP NonStop-based transaction system with the Oracle/Solaris servers used for application backup. The application uses Guardian OS system calls to capture transactions on the NonStop server. In real time, NetWeave transfers these transaction images to the Oracle/Solaris platform, where they are safe-stored in native format for disaster-recovery purposes. This application, known as Remote Logging, was implemented by the NetWeave Professional Services team.
Concord EFS went on to create a second Solaris-based application that serves as a data warehouse. The application reads the native transaction files and inserts these transactions into a relational (Oracle) database for access by a variety of First Data business applications.
Originally, the IBM RS6000 platform, running the AIX operating system, was the Remote Logging target and hosted the Oracle database. NetWeave middleware seamlessly migrated the applications and the database to the Solaris system. NetWeave's simple API and trouble-free operation has allowed First Data to make multiple platform version enhancements without the need to change the original source code.